Mzee Eldad Kabinga is over 80 years old and cares for his last-born son, who recently completed high school, in Tumutumu, Kenya. He is a farmer, attending to his coffee, bananas, and other crops daily as well as a member of his local church.  
However, his house was collapsing. It was a mud house, and most of the mud used in its building was falling off. The sticks and planks of wood used in its construction were visible because they were sticking out. The iron sheets on the roofing were all rusty and parts of the iron sheets had formed gaps. During the rainy seasons, the rain would leak through the roof, and he would be forced to move his belongings to prevent them from getting wet.  
Due to his old age, Mzee didn't have the strength or resources to build another house for himself. The local community, through the Church Leaders Fellowship (CLF), approached the 410 Bridge for assistance. The community would provide all the labor needed to build if 410 Bridge could assist with other costs of construction.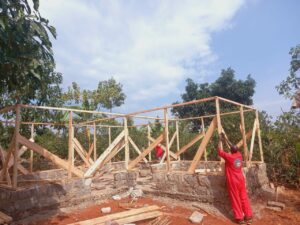 The result of this partnership is a two-bedroom house with a common room. The walls are made of wood, the floor is cemented, and the roof is made of iron sheets. The kitchen was built separately from the main house and will be used for cooking, storing firewood and utensils as well as a chicken house. 
When Mzee's house was completed, 410 Bridge was invited to a dedication ceremony for the house that included a dedication service by the church, a ribbon cutting, singing, dance, and food where community members were excited to be part of the celebration.  
We are excited to see the local church and community take it upon themselves to make a difference in their own community. Please keep Mzee Eldad Kabinga, the Church Leaders Fellowship, and the community of Tumutumu, Kenya in your prayers!