Thanks for following our updates & supporting our relief efforts in Haiti in the midst of Hurricane Matthew.  Support our Relief Fund here: 410bridge.org/HaitiRelief 
An update from Kurt Kandler, Executive Director of The 410 Bridge: 
[This update is lengthy and summarizes where we currently are and where we're headed in southern Haiti.  If you can't read the whole update, I'd ask that you focus on the "Economic Development" section near the end.  We've come to recognize the severe nature of the agriculture / livestock damage and the future impact on food security.  Our strategy has evolved, therefore, in order to expedite assistance with agriculture, livestock, and economics.]
WHAT WE KNOW:
On 4 October, Hurricane Matthew violently struck Haiti resulting in the country's largest humanitarian emergency since the 2010 earthquake. It caused extensive flooding and mudslides, damage to road infrastructure and buildings, as well as electricity and water shortages.  The latest figures from the governmental Directorate of Civil Protection (DPC) of Haiti have so far confirmed 546 deaths and 438 injured as a result of the hurricane. (1)
Other reports have the death toll at greater than 1,000.
The 410 Bridge has been on the ground and in our communities since October 6th.   Roads and bridges were destroyed such that we weren't able to reach three of our communities until this past Wednesday.
Haiti-wide Statistics:(1)
894,000+ children are among the 2.1 million affected people.
Nearly 112,500 children under five are at risk of acute malnutrition.
2,271 cholera cases suspected between 4-19 October alone.
806,000 people need urgent food assistance.
36 health facilities
410 Bridge Communities Statistics:
Nine (9) communities in the South were severely impacted.
50%-90% of the homes in these nine communities were destroyed or severely damaged.
50,000-60,000 people in 410 Bridge communities are displaced and/or living without shelter and in need of urgent food assistance.
60 deaths reported from the hurricane and cholera.
100% of 410 Bridge 'network schools' are not functional.
90% of the churches are severely damaged
WHAT WE ARE DOING:
Our focus the first week after the storm was on distributing as many supplies as possible directly to our communities.  We leveraged our relationships with a network of mostly faith-based organizations to help distribute as much as possible, as quickly as possible.
Within days, most of the supplies that were in-country were gone.  The warehouses were empty.  James & our Haiti staff worked diligently to meet with major relief organizations to locate more supplies, but very little was available.  The good news is that we are recognized as one of the few organizations in the South that can get relief to some of the hardest hit areas.  The bad news is that the aid is just now coming in.
I returned from Haiti last Friday (10/21) after six (6) days on the ground.  In my view, the major relief organizations continue to be slow in distributing aid to the people who need it most.  We're frustrated, of course, but over the past couple days we've had visibility to large shipments that are expected to arrive soon.  James Ward, our Director of International Programs, will be on the ground again next week to secure the delivery of as many supplies as possible to our communities.
Our Relief & Restoration Strategy:
Relief Supplies:
Coordinate supplies from major relief organizations, through 410 Bridge Leadership Councils, directly to our communities.  The focus is on immediate needs:  food, medicine, water, and temporary shelter.
Safe Water:
Provide high-volume water treatment systems to six (6) communities, as well as individual water filtration and water purification tablets.
The water system in Morency was back on-line on October 8th.  We've requested six (6) additional high-volume systems from our water partner.  30,000+ Aqua Tabs have been distributed.  2,000 individual water filtration solutions will be distributed with the ShelterKits (see below).
Another piece of good news is that the spread of cholera seems to be in-check in our communities; at least for now.  Two cholera clinics – Doctors without Borders and Samaritans Purse – were created in the Kalapa-Figuier Corridor.
Temporary Shelter:
The Haitian government will not allow displaced people to live in tents.  A lesson learned from the 2010 earthquake.
We were allocated 2,000 ShelterKits (above) by ShelterBox.  They were expected last week, but unfortunately, they're now not expected to be in-country until the end of the month.  Another frustration for sure.  When they arrive and clear customs, they will be distributed within 2-3 days.  Our first non-medical relief team arrives next week and will be traveling to Figuier to focus on temporary shelters for the most vulnerable – widows, elderly, and handicapped.
Two more relief teams will arrive on the 31st.  Their focus will be installation of ShelterKits assuming the kits arrive in time.  If not, we will purchase basic building supplies – metal sheets, lumber, nails, tarps, etc. – and help repair as many homes as possible.
Relief Teams:
Two medical teams are on the ground now in Figuier and Morency.  Another medical team will arrive Monday and travel to Maniche.
Three relief teams – focusing on construction and clean-up – will be on the ground beginning late next week.
Our Leadership Councils requested one relief team per week, per community.  That means we have capacity for about 100 people per week.  If you or your church are interested in mobilizing a relief team, we could use you.  Email us at info@410bridge.org.
Schools:
All of our network schools are severely damaged and not functional.  We secured 100 ShelterBox tents (below) that will be used as temporary classrooms.  We have all the ShelterBoxes in warehouse in Les Cayes.  They will be distributed to our schools as soon as the Leadership Councils can mobilize parents to return their children to school.
This is an important part of our strategy.  Community leaders recognize the need to keep children on track with their education and get them back into a routine.
The problem, however, is more than classrooms.  Many families lost everything.  That includes clothes, school uniforms, books, and supplies.  Those families have no capacity to pay school fees because they lost their crops and livestock.
The 410 Bridge is meeting this week to discuss the viability of adapting our child sponsorship resources to the immediate need of getting the children back in school.  We're also discussing temporary (6-12 month) sponsorship program specifically targeting education relief.  Stay tuned for more details…
Economic Development:
This is an area that not many people, or organizations, are talking about.  We, however, are very concerned about restoring economics as quickly as possible through agriculture, livestock and creating immediate business opportunity.  Here's why…
The southern peninsula is one of the primary agricultural producing regions in Haiti.  Many of the farms in the South were washed away by the rising tides and the extreme flooding.  This will have a significant impact on the indigenous food supply in 90-120 days.  In addition, thousands of animals – chickens, goats, pigs and cows – perished in the storm.  Much of Haiti depends on the agricultural production from the South.
Right now it's the rainy season in southern Haiti.  If farmers do not plant quickly (this week), they will miss the rains and they may miss out on an entire harvest.  Therefore, within the next two days we are securing and distributing a variety of seeds.  We are meeting with farmers in all nine communities to encourage them to plant within the week or risk having nothing to harvest in 90 days.  We're working with 2-3 agriculture ministries to get technical assistance and seeds.
On the livestock side, we're focusing on chickens to start.  We're in the planning stage of an egg-producing initiative that will not only generate chickens and produce eggs, but will also secure a self-sustaining income almost immediately. Again more details coming soon.
Another important point here…  We are mindful of the unintended consequence of relief & aid that is not short-lived.  We are concerned that extended aid will undermine the development effort that was underway prior to the hurricane.  By restoring economics quickly and allowing people to sustain themselves without the need for an extended handout, we believe we can stem the tide of dependency on foreign aid.  …at least in 410 Bridge communities.
My visit this week reinforced what we already knew…  Our Haitian friends in 410 Bridge communities are resilient and well-led.  They've already begun the long and painful journey or clean-up and rebuilding.  Our leaders are united and grateful to The 410 Bridge for being the first (and in some cases, the only) organization to help.  Our heart and our strategy, as always, is to help our communities recover faster and return to the journey of development as quickly as possible.
On a personal note… I continue to be amazed and impressed by our staff in Haiti and here in the US.  It's hard work and long hours for so many.  Everyone is up to that challenge and I'm grateful to all of them.  The 410 Bridge is a nimble, results-oriented organization committed to Christ-centered, community-initiated development.  For the next several months, our efforts in southern Haiti will be focused on relief & restoration, so that we can return to our community development work as soon as possible.
On behalf of our entire staff in Haiti, in the US, and especially in our communities, thank you for supporting our work.  We have a long way to go…

(1) OCHA Haiti Situation Report #14 October 21, 2016
410 Bridge Hurricane Matthew Relief Plan: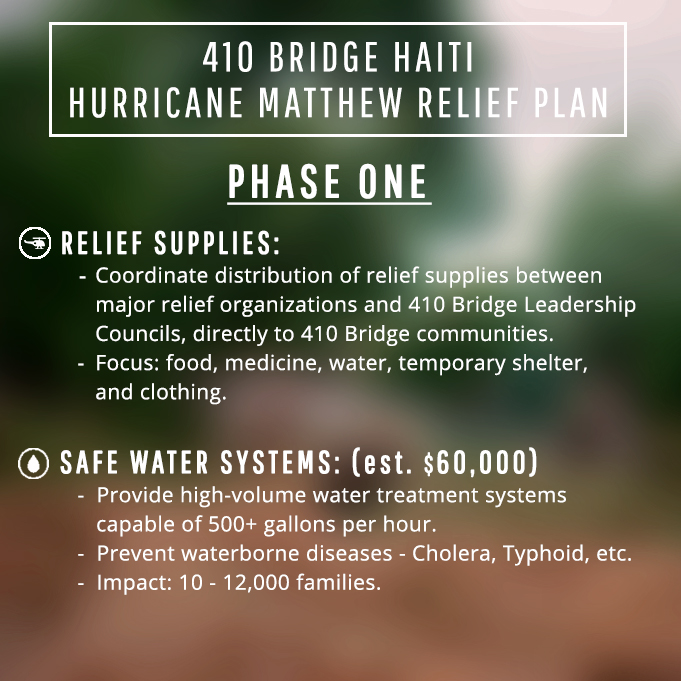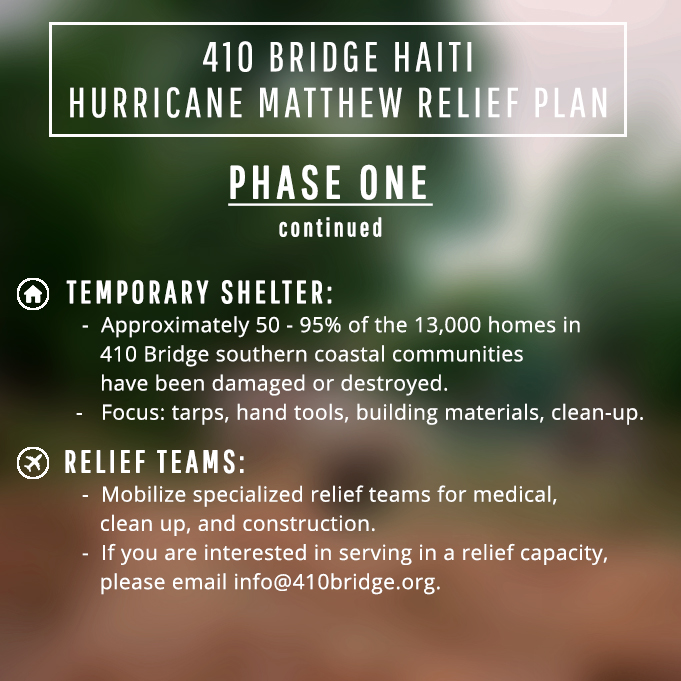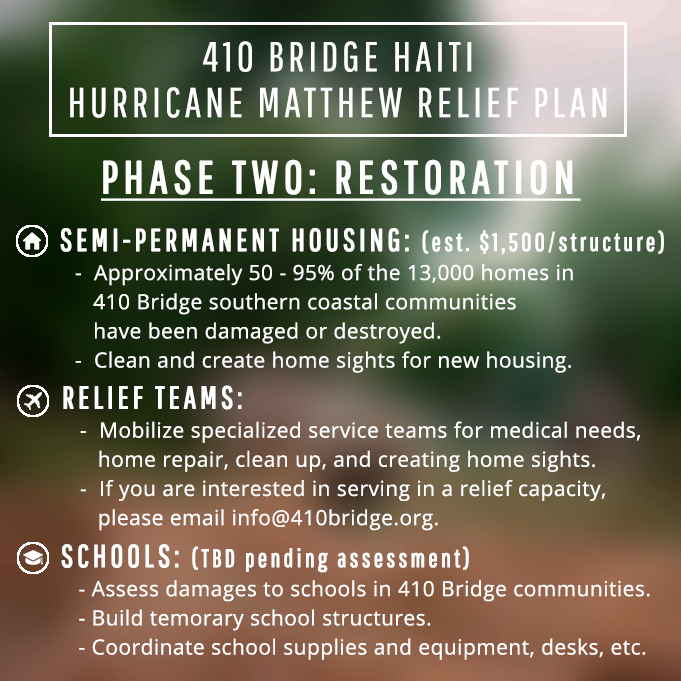 Support our relief efforts here: 410bridge.org/HaitiRelief
Saturday 10/22, 3:20 pm EST: 
Two weeks after Hurricane Matthew ripped through southern Haiti, the road along the coast was finally cleared enough for a small team of 410 Bridge staff  to reach the communities of Labayi, Bousquette, and Kalapa. As our team drove through Bousquette, we stopped at one of the schools to speak to the principal and assess the damage.  The school's roof had been completely destroyed, along with the latrines, desks, and all the school supplies.  Our visit had to be short because the Leadership Councils were waiting for us in Kalapa and we were already late.
As we left the shell of the school, an elderly woman, who lived directly across from the school, was standing in front of what was left of her meager home.  Her roof and some walls were completely gone, a blue tarp covering only the front section.  Lying at her feet was a large tent.  She stood with her arms open, pleading for help.  We're not sure where she got her tent.  It was obviously used, and bigger than a typical camping tent.  But she'd been sleeping in the rain for two weeks because she hadn't the strength or the know-how to assemble it on her own.  The 410 Bridge team — Kurt, Crizauld, Kenneth, and Dulice — knew that staying would keep the leaders in Kalapa waiting, but they would just have to wait.  Watch the video below: 
 As soon as we emptied the contents of the bags, we could see that important pieces were missing.  That's when the rain started…  We realized quickly that what we thought would be a quick assembly, was now going to be very wet and require some creative engineering.
With most of the poles, and some tie-down ropes, we were able to get her tent constructed.  Unfortunately, it wouldn't stand up to even a modest wind.  The only option was to attach the tent to a tree directly overhead.  Within seconds, Crizauld (our beloved Country Director), who will celebrate his 61st birthday in January, was up the tree reaching for the ropes.  Other people from the community joined in to assist.
30 minutes later, the tent was up, and our 83 year-old friend in Bousquette had a dry place to sleep.
Thanks Crizauld, Kenneth and Dulice for all you do for The 410 Bridge in Haiti.
Thursday 10/20, 1:50 pm EST: 
Our Executive Director, Kurt Kandler, just visited Bousquette, LaBayi and Kalapa. 
We have a story to share from the Vice President of our LaBayi Leadership Council: He and his wife evacuated in the dead of night after the storm blew their house away. The husband grabbed one of their young children, while his wife grabbed the other, a small two-year-old. They walked through the dark in the violent wind and rain, not knowing where they were or where they were going. The two-year-old was ripped from his wife's arms by the wind. Two days later, a farmer heard the child crying on his farm, and these parents were reunited with their precious child.
Kurt met with the Leadership Council in Kalapa, and visited the Flamboyant Guest House. The roof was gone, and the top level was exposed. The small surrounding communities were completely destroyed and washed away. We plan to distribute 300 shelter kits in Kalapa, but the need is still very great.
At the Leadership Council meeting, the people who helped us get the boat to deliver supplies last week stopped by to say hello and thank us for being the first people here after the storm. The Mayor of Chardoneire also joined the meeting. He explained that people will no longer be allowed to build on the waterfront. There is government land to relocate people, and he asked if The 410 Bridge knew of any planning engineers who could help. The government wants to avoid congested communities like those that sprung up after the earthquake.
95% of LaBayi and about 80% of Bousquette was destroyed. It's extremely difficult to access these communities, as the bridge is not usable and our team had to drive through two rivers to get there. We learned that there have been 2 deaths in LaBayi from the hurricane, but thankfully, none from cholera. In Bousquette, there were 2 deaths from the storm, and 9 from cholera. And in Kalapa, there were 6 deaths from the storm, and 2 cases of cholera.
1200 houses in LaBayi were destroyed. In Bousquette, 188 houses were destroyed and 13 were damaged. In Kalapa, 236 houses were destroyed and 59 were damaged.
Some of the health issues are tetanus, wounds, and emotional trauma. The Leadership Council asked for help with psychologists, counselors, or other people to help with PTS. Clean water is also a problem. There have been 32 cases of cholera in Chardoneire. We're glad to share that Samaritan's Purse set up a cholera clinic at the edge of Kalapa, right next to Chardoneire.
Large trucks can't use the roads yet, so it's very tough to get supplies to this area. To avoid long term hunger, we're working to begin farming again. We're coordinating getting seeds now. The chicken project that was 90% complete was severely damaged. It looks like most of the destruction was the roof. Despite this setback, the community is going to continue with the project. We're inspired by the resilience of our Leadership Councils and communities. Please continue to pray for Haiti during the long road ahead.
Please continue to pray for Haiti, our communities, and our staff.  We're grateful for your love, generosity, and support.
Wednesday 10/19: 4:48 pm EST
An update from Kurt Kandler, after meeting with the La Croix Leadership Council:
Here is an update about the damage in the community: There are 3 confirmed deaths from the hurricane. Many, many homes have been destroyed. Most of the fruit trees and livestock are gone.
Accessing clean water is another major issue. Children are the most vulnerable to waterborne illnesses. There are 3 cholera cases, as well as several malaria cases.
Churches and schools have been destroyed and can't be used as shelters. We're coordinating a delivery of 100 Shelter Kits within the week. We'll also be coordinating several Shelter Boxes to use as temporary schools.
Looking to the near future, parents are anxious about the type of opportunities they'll be able to provide. Their children don't have uniforms — many don't even have clothes — and parents can't pay school fees or replace what was washed away by the storm.
Please pray specifically for our Leadership Council in La Croix as they lead their community in the aftermath of the storm.
Here is an update about Figuier, Grand Passé, Anbo Mango and La Beyi:  
As we drove through the community, I noticed that over 90% of homes, churches, and all 3 network schools have been destroyed or severely damaged. I was encouraged to see that people are beginning to clean up the streets and clear plots to build new homes — it's a major undertaking.
The Leadership Council is eager to receive one of our medical teams this coming Friday. 50 people have died to-date since the hurricane. Our hope is that more people do not die needlessly from preventable diseases. Waterborne illnesses and malaria are major concerns.
For shelter, 1200 ShelterKits were to be distributed to Figuier, Grand Passé, and Anbo Mango. LaBeyi ShelterKits will be included with the Kalapa and Bousquette distribution.
Our community is talking about how to prepare for the major hunger coming. The South is a major agricultural producing area and there will be no food. The 410 Bridge will continue to do what we can to restore economic stability in our communities while we restore shelters. Many, many people are in desperate situations.

The Leadership Council were very grateful that The 410 Bridge was the first one in the community doing what we could to help. 11 leaders, in this meeting alone, lived on the shoreline and lost everything.

Please continue to pray for our Haitian staff, leaders, and communities. We're grateful for your ongoing support, prayers, connections and concern.

Tuesday 10/18,  5:24 pm EST 
An update from Kurt Kandler, our Executive Director, who is in Morency meeting with local leadership:
Today we met with the Leadership Council in Morency. We told them about the support and prayers that have been pouring in for 410 Bridge Haiti communities and they were grateful for the support, especially from the 410 Family in Kenya.
We checked on the water project since its repair and all is working well, people are coming three times per week to get water on designated days.  There are thankfully no cases or cholera or waterborne diseases in Morency. We are working to get the community a new water tester as their existing one was lost in the storm. We are happy to see the community is continuing to plan for the irrigation project to restore economic development.
The Leadership Council reported that 400 homes had been destroyed or severely damaged in Morency and in response to our request, the LC is now working to identify 300 families within their community who have the greatest need for ShelterKits. We will be distributing those as soon as the families have been identified.
The organization Hope for Haiti is helping with repairs on 2 schools in the community, although one of those schools requires almost total reconstruction. These will be temporary repairs to the schools, as they are making them with wood, which is not sustainable for a school in Haiti. The problem the communities will be facing soon is that many kids will not be able to return to school because they have lost their uniform, clothes, books, and most of the parents have lost their businesses and source of income to help with school fees. We will be providing ShelterBoxes to get the children back into school as soon as possible.
The road in the community has been cleared for vehicles and the community is beginning to clean up which is going to be a huge task for them in the following weeks and months.  The Leadership Council was grateful to 410 for clearing the main road within 2 days if the storm, it allowed them to have clean water quickly and for other relief to come in. The LC wants teams to come and help them, they said it gives them confidence in knowing that they are not alone in this difficult time.
Please continue to pray for the community of Morency and the other 410 Bridge communities as they begin to reconstruct their communities.
Tuesday 10/18, 3:30 pm EST: 
An update from Kurt Kandler, our Executive Director, who is in Maniche meeting with local leadership:
In Maniche, one church was destroyed and two were damaged. Three schools were heavily damaged. The water system was also destroyed. 80% of the trees and 100% of the farms were destroyed. 30% of the livestock died, and 60% disappeared. 75% of homes (about 306 in total) were damaged or destroyed. 25% are okay.
We're grateful to share there were no deaths reported in Maniche proper, and that there have been no cases of cholera. 20 people are injured, and we have a medical team headed to Maniche next week to address the injuries and prevent further health problems in the aftermath of the storm.
The community has begun the cleanup process. We're planning to supply twelve shelter boxes so they can resume school. All benches, desks and supplies were destroyed, but they're trying to salvage as much as possible. The Leadership Council expressed their gratitude, sharing how grateful they are for The 410 Bridge and to be part of the family. Please continue to pray for Maniche and the rest of our communities as they rebuild after the devastation of Hurricane Matthew.
 Tuesday 10/18, 10:00 am EST: 
From what we can tell, the major aid organizations continue to be slow moving.  We heard that eight helicopters were scheduled to deliver food and supplies today to people in the South who have yet to receive anything since the hurricane. Please pray with us that a distribution happens.
One of our priorities is the help communities get back to their normal routines as possible. School is a big part of that, but with many school damaged or totally wiped out, it's a real challenge. We are excited to partner with the folks at ShelterBox, an international disaster relief charity that delivers emergency shelter and vital aid to people affected by disaster worldwide.
They've committed 2,000 ShelterKits to 410 Bridge to be distributed to our communities.  They've also agreed to provide 100 ShelterBoxes for us to use as temporary classrooms and mobile clinics. We'll deliver those tomorrow.  The ShelterKits are scheduled to arrive within a week. Each kit will include two malaria nets, water filtration kits, solar lamps, and a jerry can. We're beginning discussions about the challenge of getting people into more sustainable semi-permanent housing after the ShelterKits are constructed.
We met at the Mayor's office in Les Cayes today, and will continue to coordinate through his office for relief efforts to our communities.  He was very grateful for 410 Bridge's partnership with communities in the area before the hurricane and extremely grateful for our presence since the day after the hurricane.
Our warehouse contains supplies provided by our friends at BlueRidge —pillows, blankets, and other supplies.  We'll begin inventorying those items this week and then distribute what we can to our communities through the local Leadership Council members.
Before leaving Port au Prince this morning, we stopped to say hello to our friends at Mission of Hope.  We were grateful to them for being one of the first organizations to help us get relief supplies to our communities.
Morency's Leadership Council told us today that because they have clean water, and there are no Cholera cases in their community,  they will continue to plan for an irrigation system, which is a project they were working on pre-hurricane.  This is great news and a testament to their resilience to keep moving forward.
We've also begun the sourcing of seeds for agriculture restoration.  It's the rainy season right now and we want people to begin to plant as soon as possible so they can have something to eat in three months time.
We'll spend the day tomorrow meeting with all of the Leadership Councils. Please pray with us in the next few weeks and months that the transition from aid and relief, to restoration and sustainable development is one that comes naturally to these communities. Thank you for all of your support, love, and prayers.
Friday 10/15, 8:45 pm EST: 
We just received an update from our Haitian staff reporting on which supplies were delivered to Figuier, Kalapa and La Croix today:
Estimated amounts:
60 bags of rice – 25lbs/each
10 bags of beans
8 bags of sugar
4 bags of power detergent
4 cases of cooking oil
80 cases of water (small bags)
Multiple cases of spaghetti
8 bags of flour
Powdered milk
Candles
Matches
Our staff distributed a portion of each item to those communities. These supplies were all secured from partners we are working with in our relief efforts. We're grateful we were able to partner with them to provide transportation to our communities and surrounding areas.
Thursday 10/14, 10:15 am EST: 
An update from James, our Director of International Programs:
"Yesterday (Thursday October 13th), we distributed these supplies in La Croix: 100 bags of rice, 16 bags of beans, 50 Gallons of oil, and 20 gallons of bleach for water treatment.
In Maniche, we distributed: 20 Bags of Rice, 6 bags of beans, 10 gallons of oil, and 2 boxes of Amoxicillin.
And in Morency, we distributed 300 Tarps along with 1 large box of Amoxicillin.
We had a successful airdrop of rice, and we will be distributing 30-50 bags to the Kalapa, Labeyi area.
We'll continue distributing food to smaller communities. We were also able to get 3 Shelter Boxes.
We anticipate the transition from relief into restoration and then back into sustainable development may be a difficult one. Please pray for our staff, leadership, and Haitian communities in the coming weeks and months. More updates coming soon."
Thursday 10/13, 7:14 pm EST: 
We had an air drop headed to Maniche with some antibiotics today. We still have about 250 tarps collected so far. We're working to get more quickly. Some good news is that Blue Ridge distributed a couple thousand tarps out today, and many of them will be given to our communities in the La Beyi and Kalapa area. They will also be leaving a bunch of supplies for us in a warehouse where we'll begin storing relief supplies. More good news is that the first helicopter drop from USAID was today, delivering relief supplies dedicated to 410 bridge relief efforts. We will be dividing up the supplies and distributing them to our communities in the South.
Thursday 10/13, 3:10 pm EST: 
For an interactive map from Open Street Map showing data about cholera cases, click here. 
Thursday 10/13, 11:52 am EST: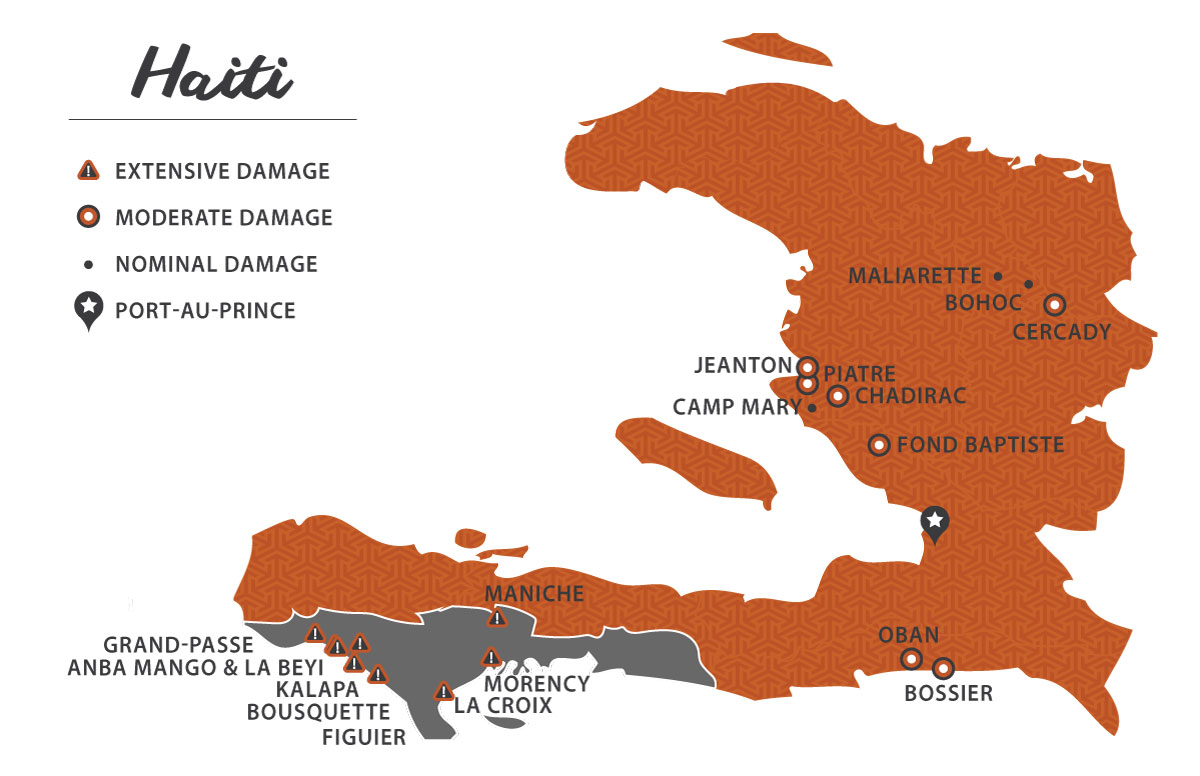 Here is a map showing the extend of damage in the communities where The 410 Bridge works. Thank you for your continued prayers, love, and generosity.  We have a long road ahead of us, and we're grateful for your support.
Thursday 10/13, 9:10 am EST: 
A video update from James Ward, our Director of International Programs, on Figuier: Click here to watch the video.
Tuesday 10/11, 11:30 pm EST: 
Maniche: After clearing the road, James and Kenneth were able to visit Maniche for the first time today, they were the first outsiders to reach the community. The unique aspect about the damage in Maniche is that it appears to have been caused by multiple tornados.  Certain areas where the tornados touched down are completely destroyed.  Schools, houses, churches, livestock and agriculture.  The community leaders were relieved to see our team, they said it gave them hope. Our team distributed Aqua Tabs for water purification and some small supplies.  The airdrop of supplies did not happen for Maniche and it is uncertain at this point if / when it will.

Morency: Food distribution occurred in Morency today (October 11th).  Enough meals for 800 families were distributed, there will be more in the coming days.  


Kalapa and Figuier: Food will be delivered to the Kalapa-Figuier corridor tomorrow.

La Croix: 10K Aqua Tabs have been distributed. 15K have been distributed to other communities.

James reported this evening, that while large relief agencies were mobilizing on the ground, very little, if any, distribution of food and water has occurred. At least not that he has seen or heard from any communities,  James was told it will occur soon, but no exact date was given.

Once the big organizations begin that distribution, 410's focus will move to temporary shelters.  We are trying to source tarps, hand tools, and ropes.  We were surprised to hear that one of the largest relief organizations does not have any tarps in Haiti at this time but they are on the way.  We are sourcing small tarps from Port au Prince and will begin some of those deliveries tomorrow.
It was reported to James today (October 11th) that it is estimated that Kalapa-Figuier corridor was the area impacted the worst by the storm.

A cholera-only clinic has been created by Doctors Without Borders in Port-a-Piment West, which is essentially Kalapa-Figuier corridor.  The clinic is being manned around the clock by Doctors Without Boarders.  Our team met with DWB today and explained that medial teams may begin arriving next week.  They asked that our medical teams focus on non-cholera cases and refer all cholera cases to their clinic.

The big need over the next week or so will be temporary shelters.  Most people are using scraps from the hurricane damage to build make-shift structures.

Thanks again to everyone for your prayers and support.  We are grateful.

Tuesday 10/11, 3:31 pm EST:
Below are our most recent updates, broken down by community. We'll continue to keep you updated as we hear more from our ground team and Haitian staff.
We've also decided to host a conference call. Join us tomorrow at 8:30 am eastern / 7:30 am central to hear from our Executive Director, Kurt Kandler. To access, dial 712.451.0011, and enter access code is 582124#. The call is limited to 1,000 people, so be sure to dial in early to get a spot.
We appreciate your ongoing prayers for Haiti. Our hearts are heavy. We're grateful for your prayers and support.
Chadirac: No deaths have been reported. 10 houses destroyed. 1 school has been destroyed or damaged. The details aren't clear to us yet. 45% of the animals died, and about 90% of the agriculture has been lost. Thankfully, the road up the mountain is passable, and the water system is working. We're thankful Chadirac has clean water.         
Camp Mary & Jeanton: We are not aware of any deaths in either community. 6 houses have been destroyed. 1 church in Camp Mary was damaged. The roof of the church was destroyed. Roads are in good repair, and communications are up. We're thankful for that. 5-15% of the animals died and 20-45% of the vegetation was lost. The water treatment system in Camp Mary is in good repair. Safe water is flowing and we're thankful. The water situation in Jeanton is bad. A big concern in Jeanton is waterborne diseases like Cholera and typhoid.  Please pray for protection against disease.         
Piatre: Thankfully, no deaths have been reported. 26 houses were destroyed or severely damaged. The roof of one church was partially damaged. Roads are not in good condition and communications remain spotty. 35% of the animals, and 50% of the agriculture have been lost. Water isn't safe. Waterborne illnesses are a big concern. Please pray as we work to get clean water solutions to Piatre.         
Fond Baptiste: One man died in Fond Baptiste. A wall fell on him during the hurricane. Please pray for his family. Our hearts are breaking. 5 houses have been destroyed. About 30% of the agriculture was lost. Communications remain difficult. Water systems are bad, and we're concerned about water borne illnesses. Food and water are urgently needed, but the mountain roads are in bad repair and are extremely difficult to access. Pray for Fond Baptiste as we work to bring them relief.         
Bohoc, Maliarette & Cercady: These communities are in the upper plains area, and we're hit quite as badly. Initial reports show that Bohoc is okay. We've heard that Maliarette is okay, too, though we haven't gotten official assessments yet. Cercadie was hit the worst of these three. They lost a lot of their livestock and livelihood: 28 goats, 20 pigs, 55 guinea fowl, 50 chickens, 3 horses and 7 cows.         
Oban: Coastal homes have been destroyed, along with about 70% of banana trees, and 90% of mango and avocado trees. The situation in Bossier is similar.         
La Croix: We are waiting to receive a formal assessment. There was significant damage, but this community is close to Les Cayes, so the Leadership Council has been able to recieve and distribute basic needs like food.
Figuier, Grand Passe & Anba Mango: There have been 48 deaths since Saturday. We're waiting to hear more updates. Our hearts are broken for our friends in these communities. Please join us in praying. 90% of houses, 100% of schools, 100% of churches, and 80% of hotels and guesthouses were destroyed. Communications are down. 90% of roads are destroyed and most bridges were washed out. There are no clean water systems. So far, there are 27 cases of cholera reported, and 6 deaths from disease. Most of the crops and livestock were also lost.         
Kalapa, Bousquette & Labayi: As of Sunday, there were 50 deaths reported. Almost all houses, schools and churches were destroyed. There have been 42 cases and 11 deaths from cholera. Clean water is a pressing priority. Please pray as we work to bring relief.
The Leadership Council walked to meet with James and Crizauld Saturday night. They said they felt forgotten until they saw that The 410 Bridge cared about them enough to come help. Your generosity and prayers are making it possible to provide this relief and hope in our communities.
A barge full of relief supplies arrived Saturday night. A couple of injured people were also on the barge. Tony set their broken bones and delivered them to a hospital in Les Cayes.         
We're working urgently to supply basic needs like food to our communities. We arranged a food drop to Figuier with 7,200 meals on Sunday.   32,000 meals are scheduled to be delivered to the Figuier/Kalapa corridor today and tomorrow. Bottled water is also being distributed, but quantities are small. We're distributing tens of thousands of aquatabs to purify water and prevent cholera.
MAP committed $29 million of medical supplies. We're working to distribute them within our communities, as well as other communities in need.         
Water Missions should be in the Kalapa / Figuier area tomorrow. We have 4 water systems in country, and and transporting the other 2 from Charleston. It looks like we may only need 6 systems. We'll keep you updated as the situation evolves.
This is going to be a long road to restoration in our communities. Please help by praying, giving, or sharing our updates to help spread the word. We're immensely grateful to have your support.
Tuesday 10/11, 9:40 am EST
Our ground team is working hard to provide food, clean water, medical supplies, and other basic needs to our communities. Although the situation remains extremely difficult, we have a little bit of good news to share.  

Yesterday, the ground team picked up 32,000 meals donated by one of our relief partners.  That's a total of about 4,500 pounds of food!  Security is a challenge when doing food distribution, but we've developed a good working relationship with the mayor of Les Cayes.  He has agreed to allow us to store supplies in his hotel compound and provide security during distribution. We're thanking God for the food and the opportunity to distribute it.

Coach and Kenneth were in Morency today doing first aid and preparing for a distribution of supplies tomorrow.   Please pray that the distribution goes smoothly, that our ground team has strength to continue working effectively, and for comfort and healing in our communities. 

Coach visited a hospital yesterday and another clinic in Port-a-Piment.  The conditions are awful.  Most of the staff abandoned the clinic leaving only one doctor from Doctors Without Borders to manage the clinic.  Cholera, injuries, and infections were the most prevalent.  Please pray for the patients, doctors, and volunteers at the clinic. We are in the planning stages to send medical teams through some of our church partners within the next week or so.

Water Mission International (our water partner) expects to get to Figuier on Wednesday or Thursday and to Kalapa by Friday.  They will assess the viability of fresh water source that can be treated through a high-volume water system.
Crizauld will be returning to Port-au-Prince tomorrow to oversee coordination efforts from The 410 Bridge headquarters.  James and Coach will remain in Les Cayes until Wednesday or Thursday. 
We hope to have some good news in a day or two about medical supplies to treat and prevent cholera.  Please pray that our work is fruitful. 
Thanks again to everyone for your continued support and prayers.  
www.410Bridge.org/HaitiRelief
Monday 10/10. 6:13 pm EST
Our Director of International Programs, James, is coordinating relief supplies like water bottles, food and other basic needs. Please continue to pray for our Haitian communities during the long road ahead. We're grateful for you.
Monday 10/10, 1:00 pm EST 
The conditions in our southern Haitian communities remain dire but our ground team was able to provide some significant relief yesterday, specifically in Figuier.
A barge delivered the first load of supplies to the people of Figuier from the beach. The distribution was orderly at the beginning, but became more frantic as the supplies ran out.  Food and water are the items of most concern.  With the first load delivered, and more and more aid organizations being mobilized, our team is working to get the distribution directly to our communities.
Yesterday, Coach and Kenneth met the barge and transferred supplies, and two injured people, to the shuttle boat.  The injured people had severe compound fractures in their legs.  Coach set both legs and treated the injured before transporting them to the hospital in Les Cayes.  The hospital was overrun, and no beds were available.  We made sure they received medical attention before departing.
Thanks to everyone who has supported our efforts so far.  Four water treatment systems are currently in country and are slated for installation as soon as possible.  The others are still in Charleston but are expected to be transported to Haiti early this week.  More on that as the situation develops.
The next priority is cholera medicines and prevention.  We are working with our partner, MAP International, to receive medicine as soon as they are shipped from Brunswick.
The long road of restoration will begin soon as well.  The damage to homes, schools and churches is catastrophic.  An estimated 90% of the homes in the area are destroyed.  Helping the community build semi-permanent homes will be expensive and building supplies are currently not available.  We will continue to update everyone on that plan as it develops.
We're deeply grateful for all the support and prayers.  Please pray for the health and energy of our staff as they are on the front lines of the relief effort, and that God would continue to connect us to supplies through other relief agencies.
Sunday 10/9 1:50 pm Relief to Figuier and Kalapa
We received this video from James this morning.  As you can see from his video, the destruction is widespread.
In the past few hours, he's seen more aid organizations in Les Cayes.  that's really good news!  More good news…  Kenneth and Coach found the barge.  A few injured people were placed on the barge.  Coach is attending to them and we've agreed to transport them to the hospital in Les Cayes.  The barge is headed to Port-a-Piment, where supplies will be offloaded for the Kalapa-Figuier corridor.  The leaders in Figuier have created a storage facility to control distribution as best they can.
Sunday 10/9, 10:53 am EST: 
Our Haiti ground team, led by James, Crizauld and Tony, called this morning to give the following update:
Their primary objective today is to get Cholera prevention and treatment supplies to Figuier.  They are returning to Les Cayes to transport the Aqua Tabs (water purification) to Figuier.
Yesterday, as the team tried, unsuccessfully, to get to Kalapa, they passed many people walking from Figuier to Kalapa to check on family members.  One of the ladies they past was the daughter of a Leadership Council member.  Our team spoke with her and asked if she could secure a boat that could act as shuttle until the road is cleared if she made it to Kalapa.  This morning we learned that she found a small fiberglass boat!  As supplies get to Figuier, that boat will shuttle small loads to Kalapa.
More really good news…  Doctors without Borders arrived about 8:20am this morning via helicopter.  They landed about 30 yards from where our team was stationed, providing us with an update.  They were able to speak directly with the doctors and learned that they will be traveling to Port-a-Piment to work in the clinic where the Cholera patients from the Kalapa-Figuier corridor are being treated.
The barge that traveled 20 hours from outside of Port-au-Prince is expected to arrive in Las Anglais.  It may have already arrived, but communications were lost (as expected) after the barge rounded the southern peninsula.  Kenneth and Tony are in a boat right now trying to find the small shuttle boat that will deliver supplies to coastal communities.  Please pray that that connection is made.
Our relief partners connected us to 4-5 other organizations that have committed a variety of relief supplies to 410 Bridge communities.  Our team is working on logistics today.  We're grateful for the connections.
The priority continues to be safe water systems.  James and Crizauld hope to meet with Water Mission International today to continue the difficult task of getting treatment systems to the South.
Thanks for all the prayers and support.  Our staff is working hard to focus our efforts on real and immediate impact.  
Please support our relief efforts by donating online at
 www.410Bridge.org/HaitiRelief. 

Saturday 10/8, 10:30 pm EST
James Ward, 410 Bridge Director if International Programs, arrived in Port-au-Prince last night, along with Tony Kijanko – 410 trip leader and trained relief responder.  They spent this morning coordinating with other organizations to secure and deliver relief supplies to the South.  A dump truck of supplies was loaded at the 410 Bridge guest house and departed for Les Cayes around mid-day.
James flew to Les Cayes with Crizauld in the early afternoon.  His report this evening was grim.  He confirmed that the entire area is completely devastated.  "Like a bomb went off."
He reports that that he has not seen any major distribution of relief supplies by any other organization.  We pray that the major distribution will begin soon.
Travel to the communities remains extremely difficult, and in some cases impossible.
Figuier:  The Leadership Council walked from their community to have a meeting with James and Crizauld.  They explained that The 410 Bridge is the only organization they've seen working to bring relief.  They are extremely grateful, saying "We thought we were forgotten but we now see how much you truly care for us."
The news in Figuier is bad.  A total of 48 deaths have been reported so far.  There are 27 reported cases of cholera, with 6 people perishing from the disease.  We have "a couple hundred thousand" Aqua Tabs (water purification) loaded on our truck.  We hope to deliver them to the clinic in Figuier tomorrow.  The large dump truck cannot get through so our team will transfer other items to our 4×4 pick-up trucks and deliver them as well.
The leaders have committed to organize and maintain control in their community as supplies get delivered.
James expects to meet personally with our water partner (Water Mission International) tomorrow to try and expedite a water treatment system to Figuier.
Kalapa:  The community is still unreachable by vehicle.  James and Crizauld are trying diligently to coordinate a boat delivery.
Maniche:  Our team worked to prioritize an air-drop of supplies to Maniche.  They have not been able to confirm if/when the drop occurred.
Morency:  The road was cleared by Fenold and Kenneth (410 Bridge Haiti staff) with a chainsaw, and the safe water system was operational as of yesterday.
Kenneth and Fenold are trying to make their way up the coast to Figuier & Kalapa.
These are the only communities that we have updates for at this time.  Cell networks remain down and we are communicating with our staff via satellite phones.
Thanks to everyone who is helping financially.  We are very, very grateful.  We are also grateful to those that have leveraged their personal networks to spread the word about the situation in our communities.
The reality is that more resources are needed, and will continue to be needed over the coming weeks.  We are doing everything we can to mobilize funds immediately to impact people living in southern 410 Bridge communities.
Saturday 10/8, 10:42 am EST 
A video update from James Ward, Director of International Programs: Update from James
Supplies are headed south to be distributed to 410 Bridge communities this afternoon. Thank you for your generous support. Please continue to pray for our Haitian communities and give to our Relief Fund here: 410bridge.org/HaitiRelief
Friday 10/7, 10:55 pm EST 
We've received more photos from Morency (please see below.) Our 410 Bridge Haiti Executive Assistant and Programs Manger, Kenneth and Fenold, along with the Leadership Council and local volunteers, managed to clear the road leading to Morency. Thank you to our water partner, Water Mission International, we were able to activate the new safe water system and get clean water flowing for the community. 
Friday 10/7, 6:21 pm EST 
We have confirmation of clean water flowing in Morency! Praise God. We were the first organization able to access this community. Food and supplies are scheduled to be delivered tomorrow. Please continue to keep Haiti and The 410 Bridge in your prayers. We have staff en route to Haiti currently. We're thanking God they were able to secure seats on a booked flight. More updates coming soon.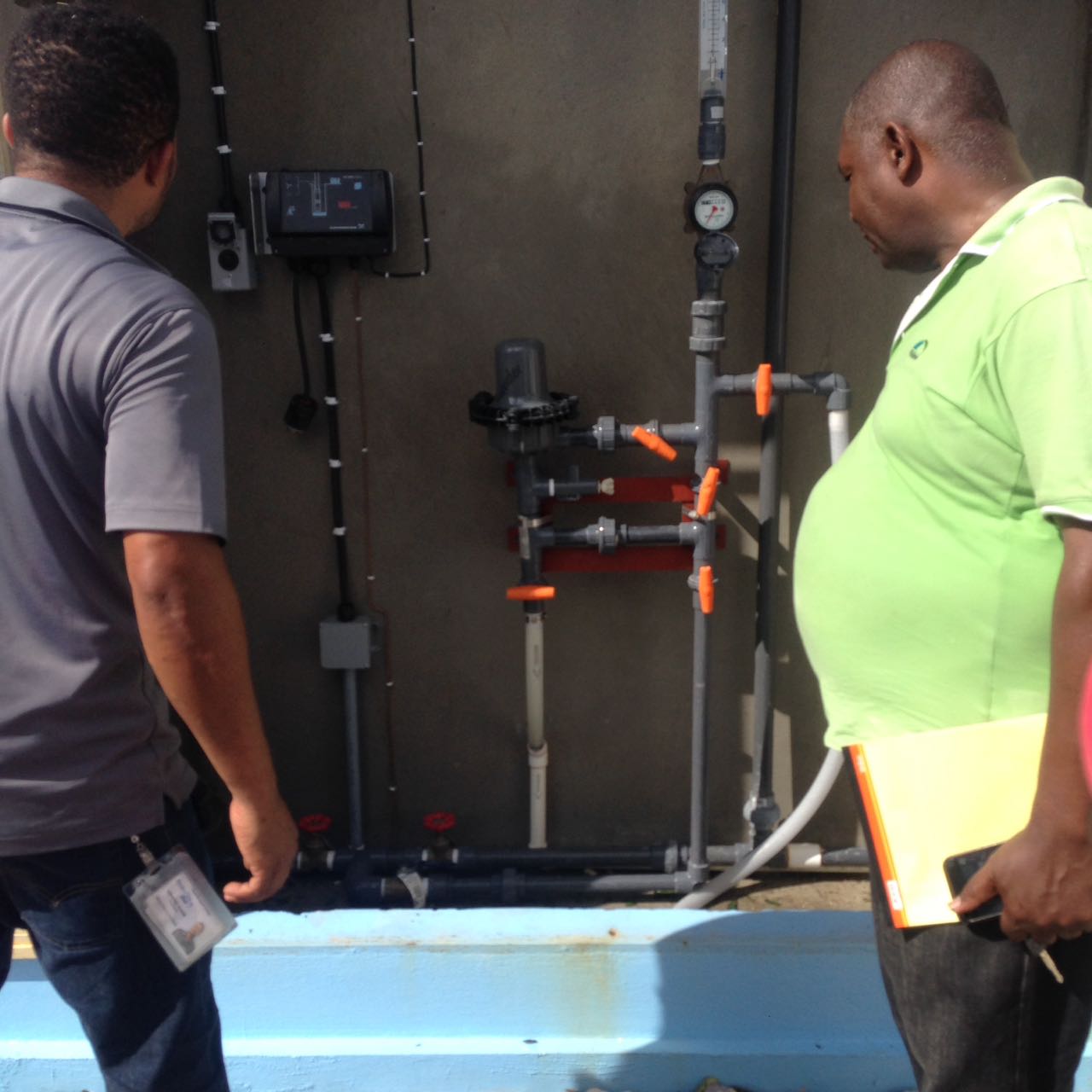 Friday 10/7, 12:07 pm EST
The latest from Crizauld: "Good news about the collapsed bridge in Grand-Goave. The Public Works department has been able to set up a temporary passway so that connections between the West department and the southern peninsula are accessible. Our Team (Kenneth and Fenold) has been able to cross the Grand-Goave bridge early this morning (Friday.) They reached Les Cayes at 10:00 am local time. The preliminary report from Kenneth is total devastation.  They don't recognize that they are in Les Cayes. It looks like an empty field or a war zone.  Kenneth is  meeting with Hope for Haiti about coordinating relief for Morency.
As of this morning, the reports are stating that 90% of the school infrastructures are destroyed, meaning that schools will not reopen on Monday (Oct 10th) as previously planned by the Ministry of Education.  The number of deaths is increasing by the day. 143 deaths in the Grand'Anse reported in addition to 259 deaths reported so far throughout the South department. This brings the total to 402 thus far. Please note that no one has been able to get to some remote areas in the country.  It will take days before that is done.
Our teams have been on the ground since yesterday in Oban/Bossier, Chadirac, Camp-Mary, Piatre, Dejans, Fonds-Baptiste.  We expect full reports within 24-48 hours.
Chadirac: All vegetation and farms are destroyed. Livestock are mostly gone. 40-50% of houses are heavily damaged or completely destroyed.  No deaths were reported.
Camp-Mary: 6 houses destroyed. 50%-60% of trees and farms are gone. Some livestock, mostly goats, reported lost. No loss of human lives reported.
Morency: I just spoke with Julio at Water Missions Haiti. He said that his team is on the way to Morency.  They hope to have the new water system operating later today.
We're working now to secure: food, clean water (drinking water and portable treatment systems), shelter, medicine, sanitary kits, hygiene kits, solar lamps, mattresses (inflatable, waterproof, sponges), blankets, bedspreads, sheets, tents, tarps, building materials like wood, nails, boards, plywood, shovels, pick axes, machetes, wheelbarrows, etc… We will also need handymen, construction workers, medical personnel, etc…
Our most pressing need is funding for water, shelter and basic needs. Next, we'll be mobilizing specialized teams for medical, clean up and construction. If you're interested in serving in a relief capacity, email info@410bridge.org.  Please continue to pray, spread the word, and donate to our Relief Fund here:https://410bridge.org/HaitiRelief/
Friday, 10/7, 9:27 am EST: Here is an aerial look at a small part of the southern peninsula of Haiti, from Tim Schandorff, Mission Aviation Fellowship. We need your help. Thank you to everyone who has graciously given. Please continue to pray, share posts, get the word out, and prayerfully consider donating to our Relief Fund.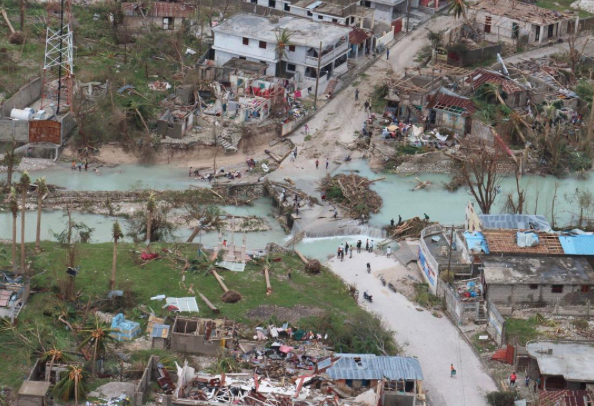 Photo Credit: Tim Schandorff, Mission Aviation Fellowship
Thursday 10/6, 10:38 pm EST: For an update about the Kalapa – Figuier region, click here: goo.gl/4zKAhB
Thursday 10/6, 4:39 pm EST: 
We've received a photo from Tim Schandorff, Mission Aviation Fellowship: "Towns and churches west of Les Cayes, Haiti all look like this."
Photo Credit: Tim Schandorff, Mission Aviation Fellowship
Thursday 10/06,  1:00pm EST: 
The news from Haiti is much worse than originally reported.  Here is the latest from our Country Director – Crizauld Francois.
"The good news is about the collapsed bridge in Grand-Goave.  Public Works has been able to set a temporary passway so that connections between the West department and the southern peninsula are restored. Vehicles can access Les Cayes, but the situation is still very difficult to get to the coastline communities. The most effective and probably the only way to get to some of those communities is by helicopter.  

As of this morning we are receiving very disturbing information about the South. There have been many more deaths that previously reported; 23 deaths have been officially reported by the Civil Protection Agency, but in Camp-Perrin alone (a county near Les Cayes) the Mayor has reported 27 deaths.   In Port-Salut all the hotels in the shoreline have been complexly destroyed.  Overall everything is completely gone… no farms, no gardens, no livestock, no fishing boats, nothing. Phone and internet connections are still unstable. 

We finally got in touch with our Community Coordinator (Dulice Nelson) in Figuier and Kalapa this morning.  Based on his report, more than 95% of houses are completely destroyed. In Labeyi, the Vice-President of the Leadership Council has lost a child. There are only 3 houses that are left standing in the community.  There is no access via the roads; all the electric poles and fallen trees block the roads. There is a great and immediate need for food, clean water, tents because there is nothing in terms of food, livestock and houses… left in the communities. He still can't get to Kalapa to give us a report for that community.

Our assessment team has been deployed to try to get to the affected areas in the Artibonite, Southeast and the West departments and we should get better information available within the next 48 hours."
——————-
The 410 Bridge is coordinating with 3-4 relief organizations that have agreed to help our communities.  We are coordinating relief supplies to get to the inaccessible coastline communities.  All of the financial resources received so far were wired this morning.  Our staff is securing supplies and transporting tomorrow.
The need is far greater than originally thought.  Thank you for prayerfully considering helping by donating to the Haiti Relief Fund — 
www.410Bridge.org/HaitiRelief
Please pray for the people in southern Haiti.
Wednesday 10/5, 6:26 pm EST: Please continue to pray for our Haitian communities. Cholera has started to break out along the coast. goo.gl/kAQ9Vu. We're urgently working with our in-country staff to assess the damages and provide safe water. Support our Relief Fund here: https://410bridge.org/HaitiRelief/
Wednesday 10/5, 4:24 pm EST: The latest from Crizauld, our Haiti Country Director:
"Our staff is fine and we have resumed full operation this morning. Our facilities (Tabarre Office Building and Guesthouse) did not suffer any damage.
Here is what we know so far:

Phone and internet connections have been out of order since Tuesday, October 4th.  The bridge at Grand Goave is out.

Morency, La Croix, Maniche, Miserne, Debouchette
The situation is very difficult with most of the local houses destroyed and the areas are flooded. It is reported most of the fishermen have lost their boats, kayaks and their fishing equipment.  

Many coastal houses in Figuier, Labeyi, Bousquette, Anba Mango, Grand Passe, Kalapa were destroyed by the ocean. In fact most of coastal houses have been wiped out. The beach in Figuier where the Leadership Council holds its regular meeting was flooded by the high tides from the furious ocean. The fishermen have lost their boats, kayaks and their fishing equipment.  Anba Mango/Anba La Rivière was flooded by the rain mixed with the sea water.  Somando Hotel is heavily damaged.  It has been reported that the Flamboyant Guest House where our teams stay in Kalapa is heavily damaged.

Les Cayes
The town of Les Cayes is still under water and most of the houses have lost their roofs and many don't exist anymore. 

Camp-Mary, Chadirac, Jeanton, Piatre, Fonds Baptiste
Those communities have suffered lots of damages.  Houses were damaged and/or destroyed. Gardens/farms have been destroyed. Livestock was lost or perished during the hurricane.  A church in Camp-Mary was heavily damaged; the roof was toppled and destroyed. Chadirac has suffered many farm losses and the thin fence of Bon Berger School was destroyed.

Cercady
Gardens/farms have been destroyed. Livestock have been lost or perished during the hurricane. The road leading to this community is almost inaccessible via vehicles.

Right now the emergency relief effort should focus on raising money for water systems and shelters.  Non-perishable food, medicines, clothing and emergency shelters are being sought from the U.N. and large relief organizations. 

Due to the difficulties of collecting viable information via phone or Internet from the communities, I had an emergency meeting this morning with my team and we have designed a plan to do a full assessment in the next 2-3 days."
Wednesday  10/5,  8:30am EST: Hurricane Matthew has moved north and we are getting the first reports from Crizauld about the damage.  "I am here at the office. We will resume operation today.  It is impossible to travel to the South due to the bridge collapse in Grand Goave. Communication is very difficult with the South. Les Cayes had sustained a lot of damage and flooding. I am still unable to reach our Community Coordinators in the South.  The most pressing needs will be safe water and materials to repair damaged or destroyed homes."
The 410 Bridge is working with our water partner to get safe water systems deployed to our southern communities as quickly as possible, but resources are needed to procure and install the systems.  You can donate to the
Relief Fund here. 
Tuesday 10/4, 3:34 pm EST:
Our latest update from Crizauld: "The UN and government are working to fully assess the extent of the damages in a short time so that we know what we are dealing with. My biggest concerns are for the children in these flooded areas and cholera outbreak where there is no clean water." Continue to pray for Haiti, our staff, and our communities as they face this incredibly difficult time. We're in contact with our water partner to get relief stations mobilized quickly. Support our
Relief Fund here
.
Tuesday 10/4, 12:50 pm EST: "Our staff is fine and is in good spirits. Our facilities (Tabarre Office Building and Guesthouse) did not suffer any damage.
Matthew is being reported as the fiercest Caribbean storm in almost a decade.  It entered the country southern peninsula on Monday night to early Tuesday morning with 145 mile-per-hour winds and storm surges, killing at least  five people and damaging and destroying many, many homes. Many people are left homeless and lost all their personal belongings.
More than 300,000 people were in shelters across Haiti, according the Civil Protection Authorities.  The National Association of Mayors, through its President Major Jules Edouard Pierre of the Commune of Carrefour in the West Department, has called for collaboration and cooperation with the central government to come to the rescue of the homeless and the affected victims of the hurricane.
Overnight, Haitians living in vulnerable coastal shacks in Port-Salut, Roche-A-Bateau, Coteaux, Chardonnieres, Les Anglais and Tiburon frantically sought shelter as Matthew went over the area, bringing heavy rain and gusts and driving the ocean into the seaside towns. Several districts (communes) in southern Haiti were flooded, with crops inundated with ocean mixed with rain water and rivers. The eye of the  Category 4 storm was hovering over the western tip of Haiti (the town of Les Anglais between Chardonnières and Tiburon), the U.S. National Hurricane Center reported.
One man died as the storm crashed through his home in the beach town of Port Salut, Haiti's civil protection service said, one person was reported missing in the town of Aquin, a fisherman was drowned in the Town of Saint-Jean-du-Sud and washed ashore in Port-Salut and two people are dead in the town of Côte-de-Fer in the Southeast department.
About 3 feet of rain has fallen over the hills that are largely deforested and so more prone to flash floods and mudslides throughout the country. All of our communities (Figuier, Bousquette, Anba Mango, Labeyi, Kalapa, Grand Passe) in the southern coastline have been affected by the hurricane.
Giraud Altidor, one of 410 Bridge driver in the South reported that Dexia (La Croix) is complexly flooded. Even the IRD (MEBSH) building that is being used as a shelter is flooded. The town of Les Cayes is completely flooded. It is reported that one of the Mayors of the city of Les Cayes was holding a meeting to plan the rescue of some residents in a house that was destroyed while the meeting was taking place.
Morency is in dire situation with most of the local houses destroyed and the area flooded.
Schiller Charles (our CC in Oban) reported that many houses in Oban and Bossier have been damaged and their banana farms have been almost completely destroyed.
Marc Versil has reported that things are not too bad in the Montrouis, Camp-Mary, Dejans, Jeanton areas.  But the hurricane has not gone over the area yet.
Djemy Berson has reported no damage in Bohoc, Cercady, Maliarette and Monarch.
As of now, we do not have any update for Fonds-Baptiste, Chadirac, Piatre and Maniche.
Our offices in Tabarre will remain closed today as a measure of precaution, since the hurricane is not gone over the West Department yet, and the roads are almost impractical.
Phone and Internet communication are very unstable, especially in the affected communities in the South. I lost communication with Dulice Nelson (CC for Figuier and Kalapa) and Alteus (CC for Maniche, La Croix and Morency) since late last night.  It looks like Digicel has some difficulties with its cell towers. So far Natcom is holding on.
Weather permitting, my team and I will attempt to reach the affected communities as soon as we can to really assess the damages and determine how we can intervene in a healthy way. In the meantime, please continue to pray for Haiti!"
Tuesday 10/4, 10:52 am EST: Waters are rising and we are loosing communication with our southern communities. Please consider giving to our Relief Fund as our communities brace themselves for the worst of this storm.
Tuesday 10/4, 7:00 am EST: Our hearts are heavy this morning as we continue to receive news from Crizauld. "The situation is just difficult.  Many coastline communities are flooded. Many homes destroyed. Communication with our Community Coordinators in the South is difficult to establish. Currently there are high winds and heavy rains continuing in the area." Please consider helping our relief efforts in communities in southern Haiti.  The 410 Bridge has established a Haiti Relief Fund that will deploy much needed relief resources to our communities on the southern peninsula of Haiti.  Our Haitian staff will work through the 410 Bridge Leadership Councils to deploy resources quickly (as soon as physically possible) to families hardest hit.  The communities in southern Haiti are the current priority… Kalapa, Figuier, Morency, Le Croix, Labayi, and others.  You can donate online atwww.410bridge.org/HaitiRelief.  Thank you!
Monday 10/3, 10:00 pm EST: "The situation in Kalapa is very dangerous. The owners of Flamboyant Guesthouse, which was being used as shelter, had to abandon it and move to higher elevations due to high tides. The main road is flooded and most of the houses in the area have been destroyed." Haiti could receive up to 35" of rain over the next 24 hours.
Monday 10/3, 9:04 pm EST: Here's the latest update from Crizauld, our Haiti country director…  Probably the last update we'll get this evening. "Just want to let you know that our entire staff is fine and is in good spirits. I did receive information about La Croix where some houses have been damaged and some agricultural farms have been destroyed. In Morency, our community coordinator reports that the high tides have reached up to 15 meters from the shoreline. Some people are refusing to abandon their homes in fear of losing everything they own. The main road leading to Figuier and Kalapa has suffered great damages, and is basically unable to be used. In Labeyi, the house of one of our leadership council members has been destroyed." Please continue to pray for our staff and communities in Haiti, for comfort and protection as they weather the storm.
Monday 10/3, 6:53 pm EST: Our latest update is from our Haiti staff regarding Figuier. We have received word that water has entered into some homes, one of which is owned by a member of the Leadership Council. That's the only incident we know of so far. Our Haiti staff has contacted the rest of the community coordinators around Haiti, and they have nothing major to report. Thank you to all of you who are praying and giving to the relief fund. We ask that you continue to pray through the night for our brothers and sisters in Haiti as the storm progresses.
Monday 10/3, 4:14 pm EST: Updates by region:
Oban and Jacmel: There is a light rain in Oban and Bossier. There are high tides (see the photo below) and we're being told the local authorities have evacuated the people living in shoreline areas. All of the roads leaving from the city have been closed to the public, allowing emergency vehicles to evacuate people more quickly.

Morency and La Croix: We're told that the people in low-lying areas have been evacuated. There are high tides and heavy rain. The population expects flooding and mud sliding caused by water from the mountains.

Figuier and Kalapa: Figuier is being impacted by the high tides.  Some small houses have been destroyed and the beach has flooded (see the photo below.) The Leadership Council President in Kalapa reports heavy rain, high wind and high tides in these communities.  Some people who are at risk have been evacuated.  Flamboyant Guesthouse is being used as a shelter for some of the local residents.

Our Country Director, Crizauld Francois wrote, "The community is bracing for a difficult night.  As you know, some of the residents' homes are not too sturdy."

Please note that phone and internet connections are currently working but unstable.
Monday 10/3, 2:59 pm EST: I just wanted to share a little update on the hurricane situation for some of the communities. For Figuier and Morency, the water is starting to rise but the people living near the coast have not yet evacuated. So far everyone is fine, as of now, and I'm trying to get more info from other communities. I'll try to keep you updated as much as I can.
Monday 10/3, 1:54 pm EST: The path of the storm is currently headed directly over the southern coastline region of Haiti.  The Haiti Civil Protection Agency has been working hard to inform people up and down the coast of the storm, and to evacuate people where possible.  Unfortunatley there is really no ability to evacuate the people who live in many of the rural communities that we serve.  The major threats to these communities as rising ocean water or storm surges that could have a devastating effect on these coastal communities that sit at sea level.  The other major concern is the huge amounts of rain expected that will likely result in flooding and mudslides.  The rains and winds have started to move throughout Haiti, and are expected to intensify over the next 12-24 hours as the Hurricane moves north over Haiti.