Today there are exactly 2 weeks until Christmas Day!
For some of us, that invokes an increased level of anxiety. For others, a deeper breath. And still others, an utter excitement for the celebration to get here sooner rather than later.
As we ponder all of the emotions and truth this season brings, we are fixing our eyes on God and His goodness. And on His words of celebration over the world He so loves.
"…but I will sing about your strength, my God and I will celebrate because of your love."
-Psalm 59:16
In thinking on the Christmas Story, it is amazing how the story remains the same year after year, generation after generation. Have you ever thought about that? To our knowledge, there has never been anything added (unless you count more barn animals in our manger scenes!) or subtracted from the story of Jesus' birth. Recorded in history and recorded in our hearts for those who believe – this is where our future begins. 
Looking through the lens of the work God has invited us into, it is still true that some may never have heard, or had the opportunity to hold this story in their hands and thereby hearts – Jesus – The Living Word. In some parts of the communities where we serve in both East Africa and Haiti in fact, there are households and families who have never had access to a Bible. Even still, there are some pastors preaching from Scriptures with missing pages. And while we know that the Word of God – His breath on a page – has the power to be rooted in His will and His way – we still believe we're called to help with the gifts we've been given.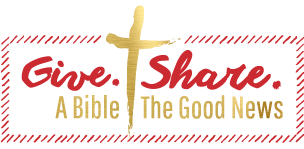 If you're considering a Christmas gift for a loved one, or feel compelled to take part in our Christmas Giving opportunity this year, we're sending Bibles to communities in Kenya, Haiti and Uganda in the new year. We cannot do this without your help of course, and want to continue offering an invitation to you – our friends and family – to take part. It's humbling to ask. Yet it is what God calls us to do.
The Bibles will be presented to local churches in the communities where we serve. Pastors and community leadership councils will be EMPOWERED to CREATE LASTING LIFE CHANGE by sharing these with families and church members in need of one. Additionally, there will be discipleship training offered to local pastors and leaders.
We decided to set a goal to send 1,000 Bibles across the bridge – and so far, we have 950 to go… We'd love to invite you to prayerfully consider taking part to Share the Good News!
You can click here for more information, and to purchase a Bible for $25: 410bridge.org/Christmas 
Merry Christmas friends! We are so grateful for you and pray your season is filled with peace, hope, joy and LOVE…
Let's Celebrate our coming King! He has done great things!
For unto us a child is born; unto us a son is given; and the government shall be upon his shoulder. These will be his royal titles: "Wonderful," "Counselor," "The Mighty God," "The Everlasting Father,"
"The Prince of Peace." -Isaiah 9:6