The water storage tank at Kiria Primary School, that began construction in June, is complete! With the completion of this tank, and the expansion of water pipes, Kiria only needs one more tank to make the amount of water sufficient for the community.
The construction of four new toilets, designated for female students, will begin in the upcoming weeks; the digging was complete in October. They will be on the grounds of Kiria Primary School.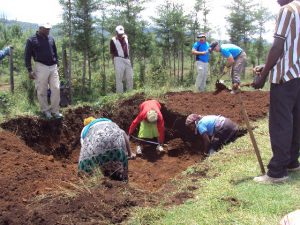 A man was saved on October 27th at AIPCA Church. The congregation was very excited and prayed the church may receive more men, which is the prayer of the entire community.
On October 15th, the Kinangop area communities (Kiria, Kwambekenya, and Karima) donated bags of cabbages and potatoes to another 410 Bridge community, Mivukoni. The community has been suffering from a food shortage due to a terrible drought. Those from Kinangop who went to donate the food were encouraged because they realized they are able to give what they have, and not always receive.